stories lived and to be lived


Activities for children.

— project duration
July 2022

— curators
Manu Romeiro
Lígia Fernandes
Inês Nêves

— project site
Agrupamento de Escolas do Catujal (Unhos, Lisboa)

— partner entities
Parish Council of Camarate, Unhos e Apelação
AMRT Transcultural
This project stems from a partnership with the Parish Council of Camarate, Unhos and Apelação and AMRT Transcultural. This partnership seeks to create and explore continuous relationships between the Quinta da Fonte neighbourhood and a community of artists working with social, situated and participatory art. Quinta da Fonte: warm neighbourhood embroidered in yellow and bathed in yellow. Warm neighbourhood with much life surely, but sometimes unseen. This is how they painted Quinta da Fonte and this is how we saw it, when we visited. And so they asked, and we consented, to nurture that wamth.

The partner entities, throughout a long work with the territory, identified in Quinta da Fonte a weak social cohesion and connection between the different local associations, manifesting a need to rethink the current relocation, community and identity models. It was based on this analysis of the territory, and on the will to create opportunities for artists to develop work with the local community that we initiated this partnership, aiming, through the organisation of artistic creation projects, to develop and share tools for the community to continue developing continuously the work catalyzed by us. We seek to explore artistically and, hopefully, strengthen the connection between those stepping on the warm soil of Quinta da Fonte: their inhabitants, the local entities, the artists, and the territory itself.

The children activities "Stories lived and to be lived", was the first initiative rising from this collaboration: a first contact to help us learn the real or imagined stories, the dreams and lives of the children that inhabit the warm neighbourhood of Quinta da Fonte.



— "stories lived and to be lived"

"When I was seven, or eight, I can't remember, I went to Marrocco. And in a city whose name I can't remember anymore, we went to a hotel that looked like a castle. And there was a piano. I was playing notes randomly because I didn't know how to play yet. So I feel like going back there now. Because now I know how to play."
The past is recent (if not present), and the memories — so alive — make us shiver just for thinking of them… They generate laughter, desires. By going and returning with no difficulties, we imagine a near and glorious future, with no fear. Unlike adults who, through stories (once lived, now told), nostalgically touch and re-live the past, children experience their stories as a process of understanding, learning and playing. By remembering and imagining, they navigate the many directions of what is possible and impossible. Everything fits within the imagination!
This program of activities for children between the ages of 6 and 12 gathered different multidisciplinary proposals related with childhood stories: stories that shape and mark us as adults, and that are the present of the children of today.
"And then, when I was exiting to the balcony, there was no backyard, it was a balcony. Uhm… we always messed with the plant vases to place them somewhere else and clean them… so one day we lifted a vase and it was full of ssssluuuuuuggggggsssssssss… since that day I began to be afraid of slugs, because… one of them climbed to my arm… hmmmm… eesssshhhh…"

Manu Ribeiro
"Here a story was told"

A drawing and spoken narrative activity. This activity was organized in pairs. Each 2 children executed two activities: at a turn, one told a story as the other drew what they were hearing. We selected a group with older kids for this workshop, as it potentiated the sharing of feelings, psoposing the challenge to become emotionally vulnerable before their friends and peers. "Here a story was told" was an activity for leaning not only how to draw, create, imagine and communicate, but also a challenge to look inside oneself and open up to others.





Alessandra Vilela
"Watercolour painting on fabric workshop"

This workshop focused on painting with watercolours on fabric. Alessandra focused the session on teaching the watercolour technique and explaining basic notions on the colour scheme. By providing a new technical skill, Alessandra sought to stimulate the children's creativity, and explore freedom of expression, allowing them to find their own voice.



Liz Melchor
"Let's Make a Monkey Story!"

Let's Make a Robot Monkey Story: an afternoon where the children each colored, adjusted, and added to a monkey outline that was plotted by the pen plotter (drawing robot). The goal was to make a very short stop motion animation. They each held part of the collective story. It aimed to integrate the childhood fun of cartoons, offer an interaction with technological tools, and to show them that together they each will have responsibility and autonomy to make one part of a unified story.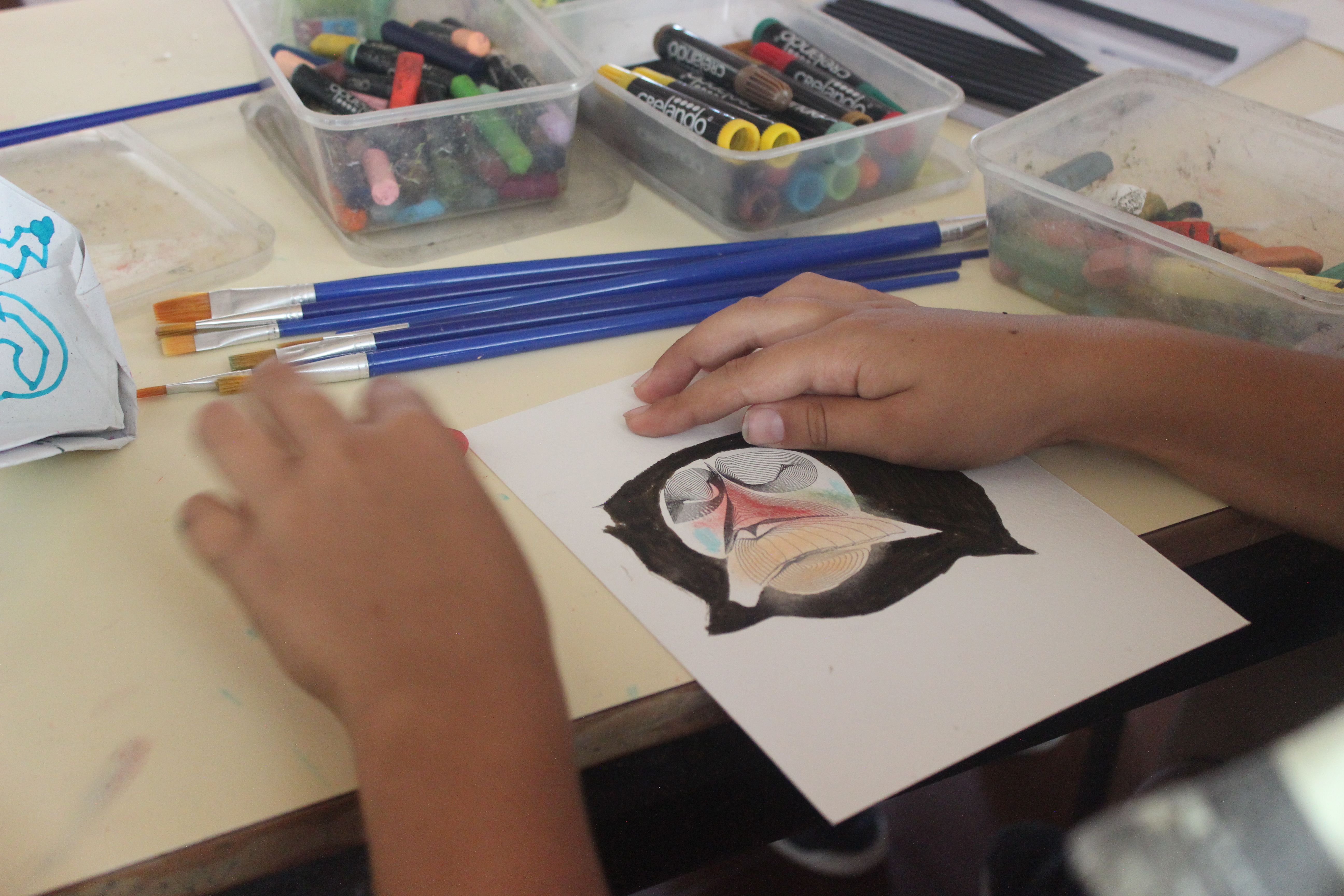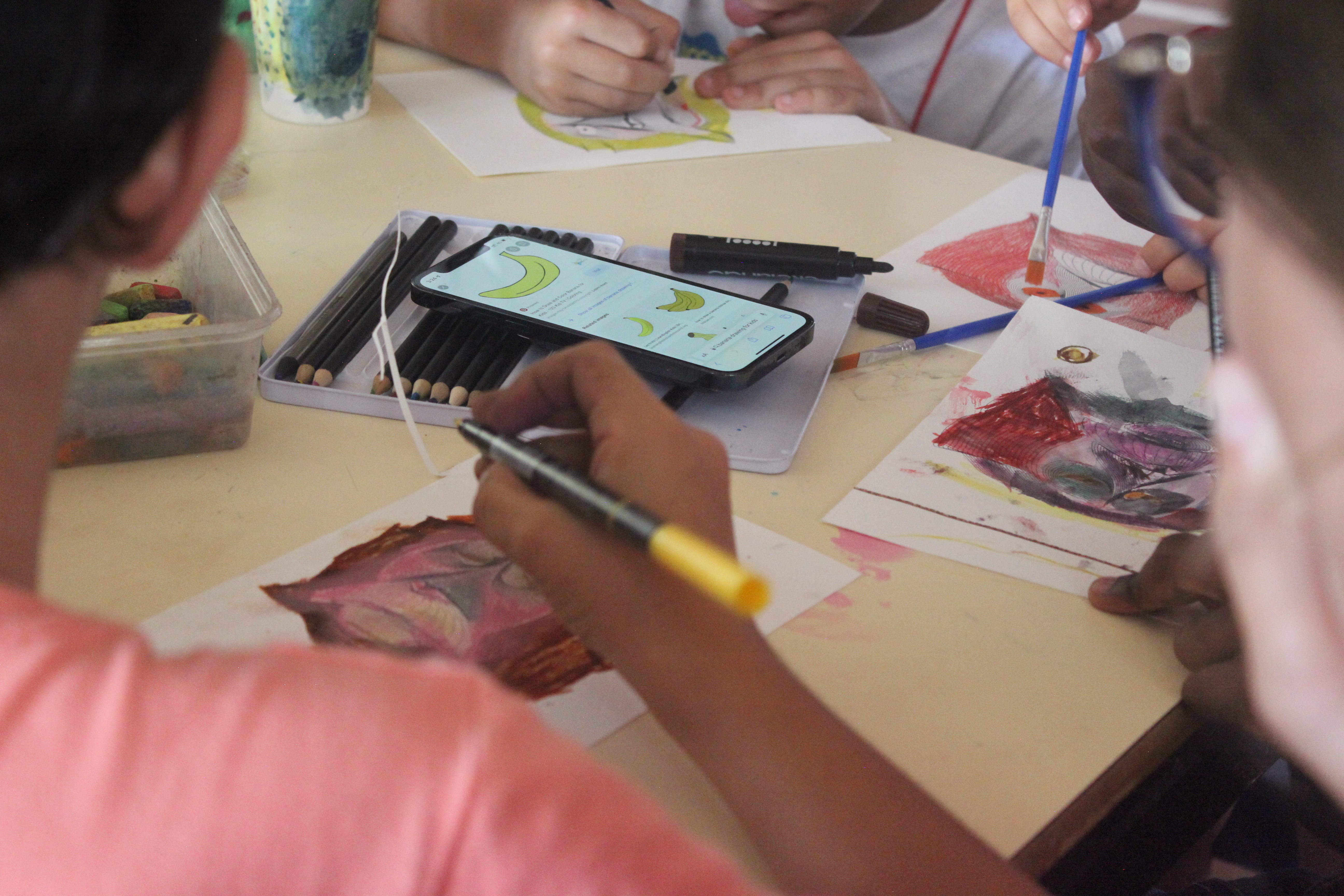 Ana André
"Stories and paper dolls"

In the activity "Stories and paper dolls" two stories were told, and for each story the children were taught how to make a paper doll through folding and cutting, and make a shirt for that figure. By shaping the figure, children personalised their toy: in some cases they created a replica of themselves, in others, a replica of a tutelary or heroic figure.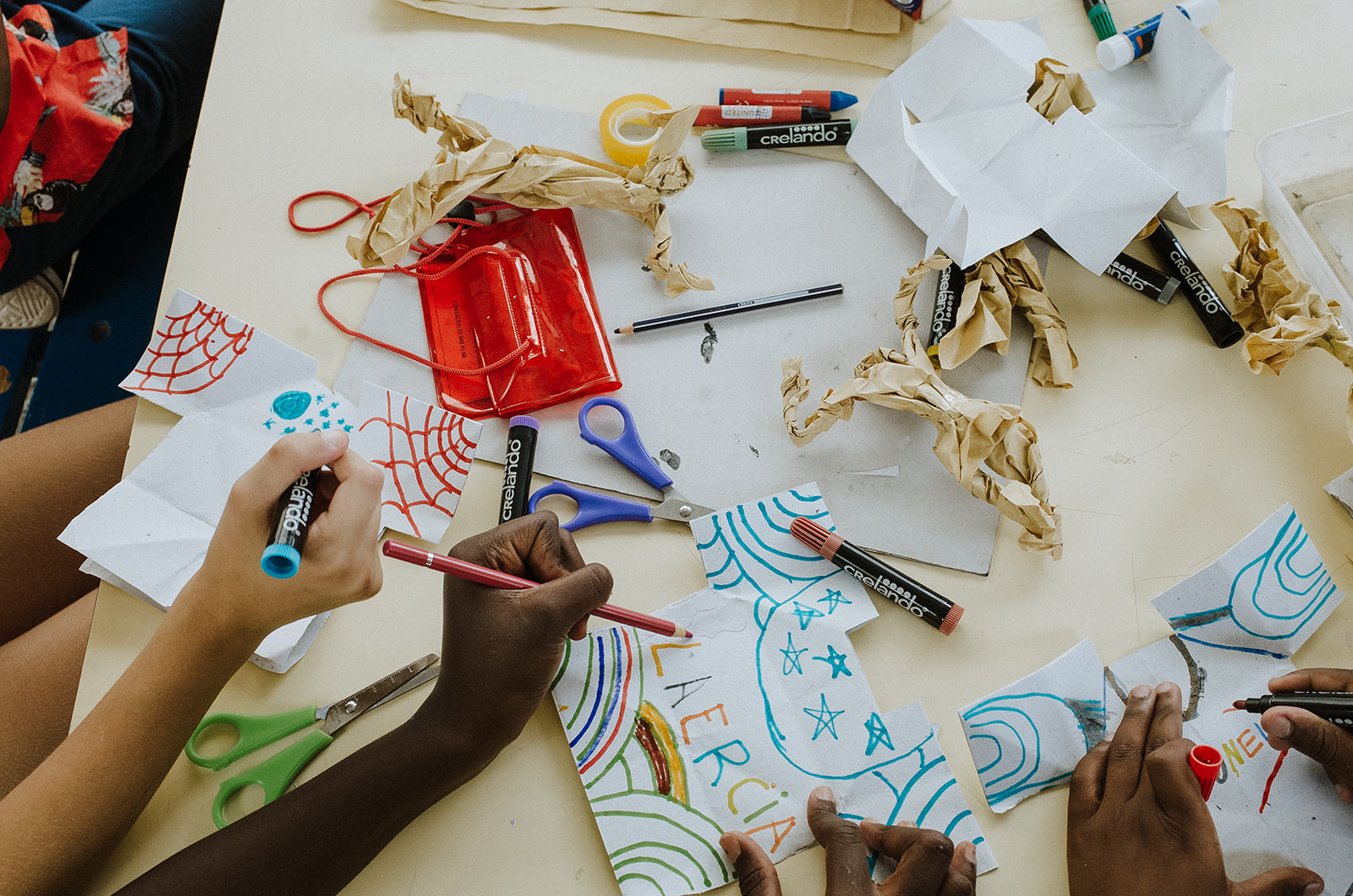 Carla Luís "Human Rights: what are they and should they be?"

In this activity called "Human Rights: what are they and should they be?", we talked about Human Rights: the Rights that we have and the ones we should have. The children were invited to talk about these aspects and produce visual materials (by drawing and writing) related with the topic. The materials were then hung on the wall in an exhibition format, giving a voice to the children's participation.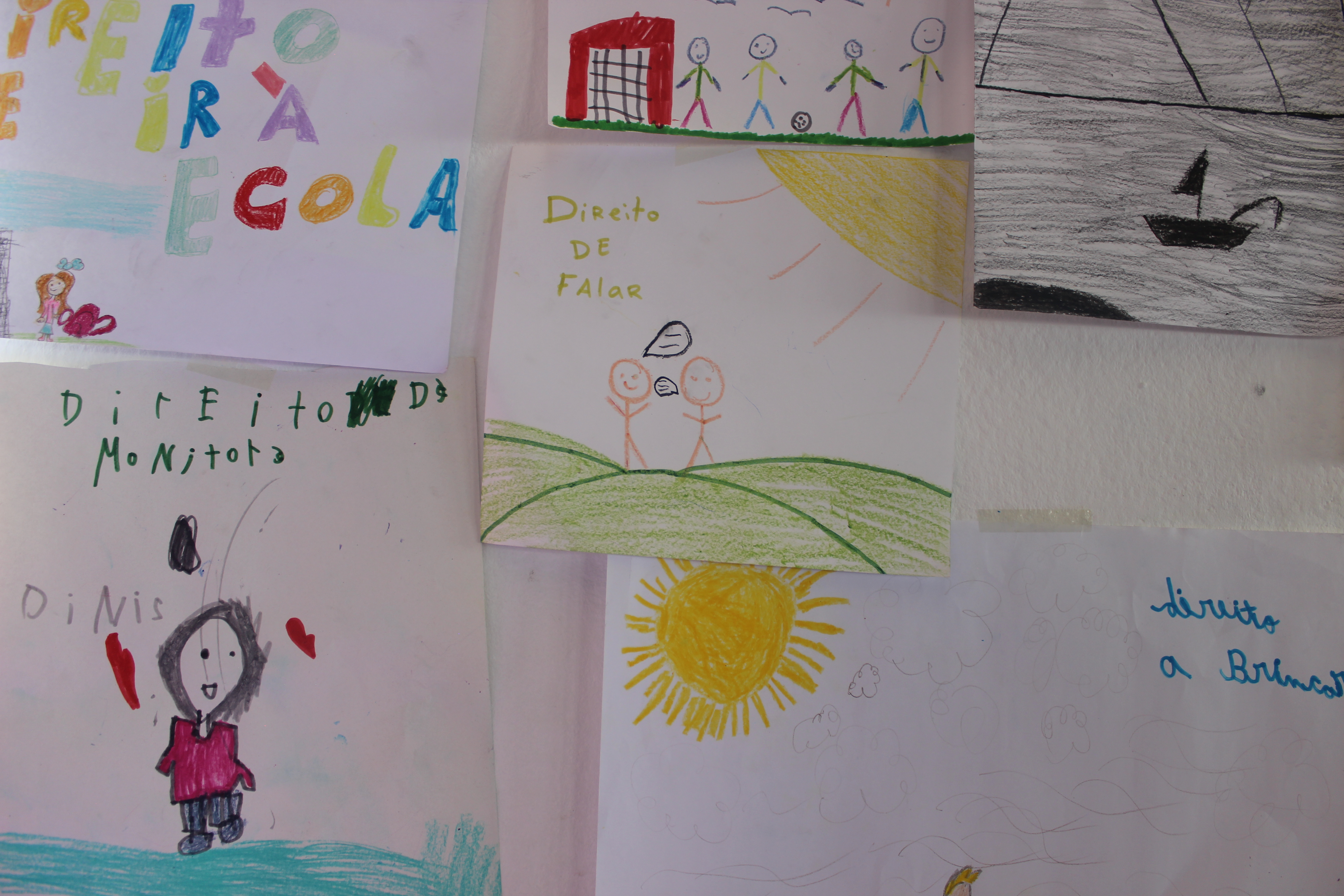 Photography: Nicole Sánchez and Inês Nêves